According to the ONS, 57% of UK families are classed as 'working households' – where all household members, over 16, are employed – that's a huge number and a vast majority of those will have school age children. How do we all cope?!
The biggest battle for me, is the guilty juggling! - I would love to spend as much time as possible with 'darling daughter' as I can - especially as she's getting older and very close to the age when she doesn't want me around (I'm not as 'cool' as I used to be, apparently) and then balancing the demands of my career and work-life; without which, I couldn't afford for 'DD' to enjoy all the things I have planned for her. Vicious circle really.
I begin planning very early – lots of lists, a colour-coded spreadsheet (which my husband seems to ignore) and a huge amount of 'favour asking' in advance. I spend a lot of time researching appropriate workshops and day activities (bearing in mind that the cost of these creep up every year) and praying that 'DD' doesn't change her mind about wanting to do them! Of course I book time off, but unless I decide to re-train as a teacher (or re-marry a millionaire), I definitely can't have more than a couple of weeks off in the long summer – after all, there's Christmas and Easter holidays to factor in as well!
The second biggest battle for me is making sure 'DD' doesn't spend her whole holiday online... you may have read our latest mailer '5 Benefits Of Using Social Media For Recruitment' which states that Generation X spend circa 9hrs a day on social media. One thing that I do have, which helps with the 'get off your phone/laptop' argument is our outdoor painting wall - 'DD' loves getting 'creative'!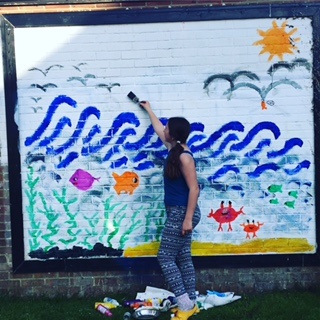 Any other brilliant ideas out there? Please feel free to share as we're only week 2 and I'm feeling frazzled already....
Written by Liz King, Senior Client Manager.
Recent posts from TMP Worldwide